Here's some of what we're working on in 2019. See our Potential Projects page for whats on the horizon.
Friends of the Bridger-Teton is committed to addressing the impacts of increasing visitor use in frontcountry camping areas on the Bridger-Teton National Forest. Record visitor numbers paired with a dwindling recreation budget can result in waste, resource damage, hazardous wildfire risks and wildlife conflicts.
Friends of the BT is proud to support the Bridger-Teton National Forest's multi-tiered approach to minimizing these impacts in the Shadow Mountain, Curtis Canyon and Toppings Lake (Jackson and Blackrock Ranger Districts). The BTNF is addressing the growing impact by numbering and legitimizing distinct dispersed campsites, installing necessary interpretive signage at each site, and launching a pilot volunteer Frontcountry Ambassador program. In 2019 new Frontcountry Ambassador volunteers will spend 5 months camped in these destination areas, promoting Leave-No-Trace, Firewise and BearAware ethics to neighboring campers.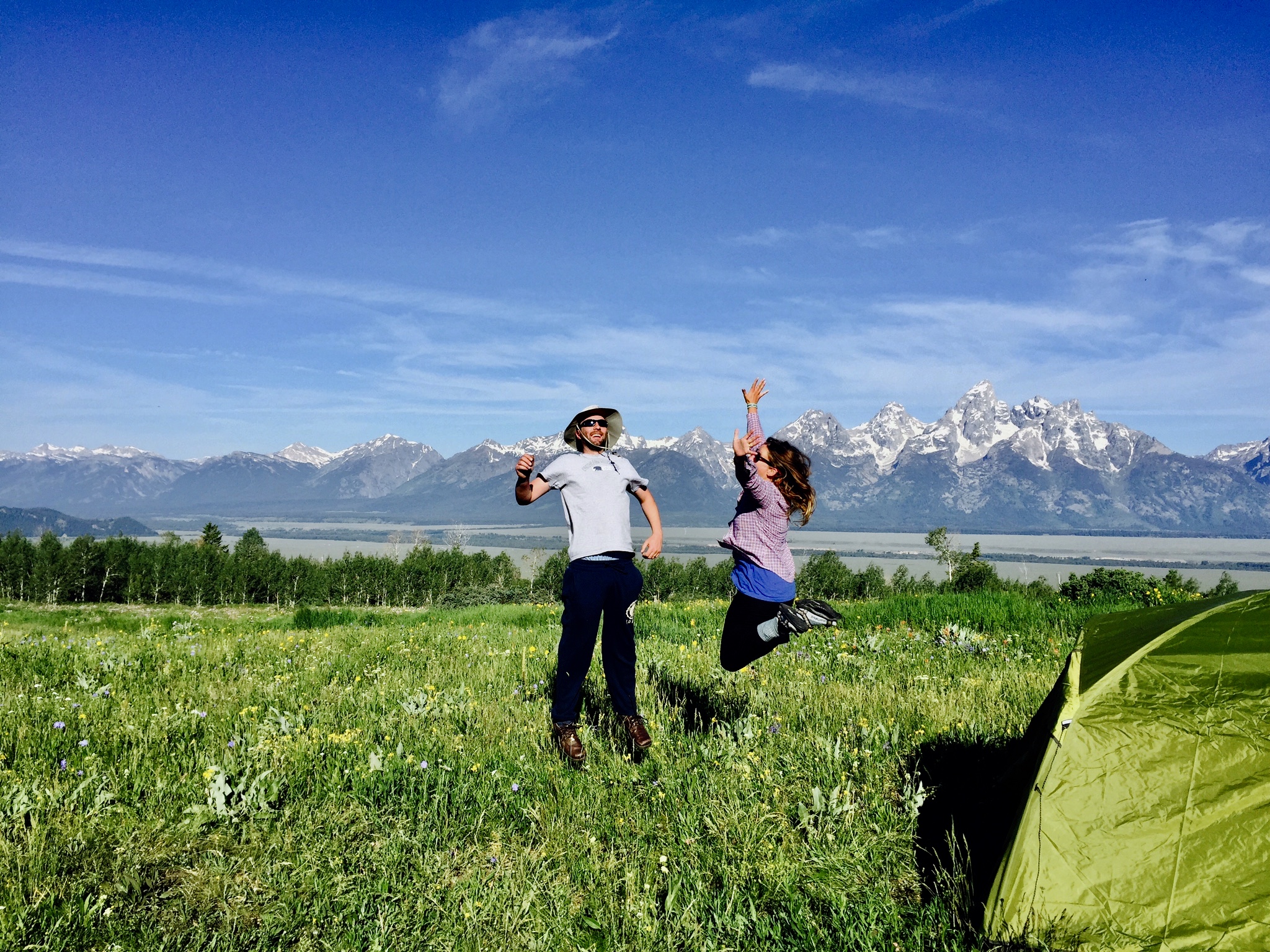 Of course lots of people want to camp here! Your support can help mitigate the impacts of increased camping pressure through signage, ambassadors and clean up efforts. Help us provide a quality visitor experience while minimizing resource damage, wildlife conflict and wildfire danger in the Greater Yellowstone.
Donations to FBT have and will support campsite signage (pictured above), lasting equipment to help Ambassador patrol and retention, and our Shadow Mtn Stewardship Day on Friday June 7th. If successful this pilot program could be implemented on similar high impact areas like the Grey's River Road.
The Wyoming Range National Recreation Trail is a long-distance trail spanning the crest of the entire Wyoming Range and topping out at Wyoming Peak at 10,500ft. The WRNRT connects multiple districts and communities across western Wyoming, from Kemmerer to just south of Jackson WY, and highlights the lesser-known southern end of the Greater Yellowstone Ecosystem.
The rolling alpine hills of the Wyoming Range provide great hiker and mule deer habitat but are a constant challenge to sign and maintain.
Forest Friends' public lands day celebration september 28th!
Did you know that National Public Lands Day is the single largest national volunteer effort on our public lands? Did you know that Wyoming is one of only three states to pass their own Public Lands Day bill? Join us on September 28th to celebrate National Public Lands Day and our very first Wyoming Public Lands Day!
What: Opening Ceremony with special guests speakers, free coffee and breakfast from Creekside, and an information hub on multiple volunteer projects.
Where: Jackson Hole - Greater Yellowstone Visitor Center, 532 N. Cache Jackson, WY 83001
When: 8am-9am kick-off, volunteer activities to follow
Who: Friends of the Bridger-Teton, public land agencies and partners
What else: Volunteer activities beginning at 10am:
Sheep Gulch Snake River Access Project with Snake River Fund and BTNF. Help install fence around the new and improved access trail. RAIN OR SHINE!

Bryan Flats Project with Backcountry Horsemen, Mountain Bike the Tetons and BTNF working on the Wyoming Range National Recreation Trail POSTPONED!

CDT Togwotee Re-route project with Blackrock Ranger District

Cache Ck Clean Up With Jackson Hole Conservation Alliance and Friends of Pathways (Rescheduled from 9/21 to 9/28) RAIN OR SHINE!

Hoback Watershed Restoration with Trout Unlimited POSTPONED

Cunningham Cabin Site Restoration with Grand Teton National Park

Fence-pulls with Jackson Hole Wildlife
RECENTLY ADDED:
Willow Restoration in Pinedale with BTNF and Trout Unlimited RAIN OR SHINE!!
Cedar Creek Trail Maintenance with Star Valley Ranch Trail Crew POSTPONED! PLEASE JOIN SHEEP GULCH PROJECT!
Help us celebrate this historic occasion, Wyoming's public lands and the partners that support them!
Across the Forest, the common thread from BTNF communities and local FS staff has been a priority need for trail maintenance. The BTNF has 3000 miles of incredible trail opportunities, but only 17% of those trails are up to USFS System Standards. Trail maintenance is necessary to reduce impacts to natural resources and to connect the public with their public lands. In our first summer season Friends of the BT is addressing several high-priority trails identified by local communities by coordinating local partners, willing volunteers, and the necessary FS staff. See our events page for events or Join Us as a volunteer!
Blackrock Field Camp
For the last four years the Blackrock Ranger District and multiple partners have brought hundreds of tribal youth from the Wind River Indian Reservation to the Bridger-Teton National Forest for an unforgettable day learning about their public lands. In 2019, Blackrock Field Camp will host 330 4th and 5th graders for two days of outdoor learning, career education, and a whole lot of fun.